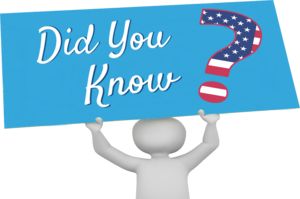 Do you like cleaning your home? Do you find it therapeutic in some way? Or do you often scowl at the sole thought of having to clean up? No matter how you feel about it, cleaning is a job that needs and has to be done. The best thing about it is that you can hire professional cleaners and you'll receive excellent and efficient service! Here are 10 interesting facts about cleaning in the US.
10 Curious Cleaning Facts
You sure know a lot about cleaning, I mean it's something you have been doing ever since you were a small kid and your mom asked you to clean up your room. But did you know, that there are some interesting facts about the process, not a lot of us have heard about? Take a look below and prepare to be amazed at how much you did not know about this daunting, mundane chore.
You can burn up to 200 calories in just 2 hours of cleaning! Now that's a new way of keeping fit!
70% of dust is made of flakes of dead skin. Gross right?! Better vacuum regularly!
A large percentage of people find their bathroom the most preferred place to clean. But, you should still pay equal attention to the other rooms in your home, too!
Cleaning is an important job as about 87% of the average person's time is spent indoors! This means more dirt, grime, dust and allergens accumulate inside your property.
If you do not use proper detergents in your home, the quality of the air inside can be approximately 5 times worse than the quality of air outside.
You can polish brass surfaces with tomato ketchup – an excellent way to make use of something you always have at home!
It is a fact that your kitchen sink probably has much more germs than your toilet bowl, so keep your sinks clean and sanitized at all times!
Out of all the diseases found in the US and Canada, 75% are caused by improper handling of food.
Did you know that over 50 million people in the US alone suffer from allergies, dust mite allergy being the most common one? That's why dusting off surfaces is so important.
Spraying the surfaces of your home with a cleaner or disinfectant and immediately wiping it off is not as effective as leaving it for about 1 minute, or at least 30 seconds. The solution works effectively and eliminates more germs and bacteria when you wait a while before wiping counter tops and other surfaces.
If these facts still haven't made you grab the mop or the vacuum, contact Cleaning Smyrna. Our cleaning specialists in Smyrna have all the proper tools and solvents to guarantee excellent results every time. With our services, you can make sure all germs, allergens, and dirt are eliminated.
Tags: Cleaning Smyrna, home cleaning