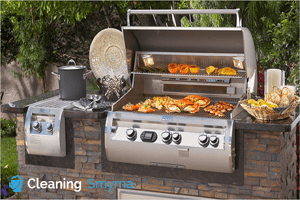 Enjoy entertaining outdoor parties without having to bother with time-consuming and dirty cleaning afterwards. Forget about all these tedious tasks because the cleaning service we provide is the perfect way to make the most of your time with family and friends. Achieve better results in less time!
Our BBQ cleaning technicians are fully trained, experienced, certified, licensed and insured. They have the necessary know-how to clean gas, electric, wood and charcoal barbecues with variety of solvents. All used products are powerful enough to remove grease with ease and gentle enough to all metal surfaces. They are also non-toxic and leave no unpleasant odors or flavors in the cooked food.
Modern Dip Tank Barbecue Cleaning Process
Our expert BBQ cleaners are equipped with specialized dip tank and the necessary cleaning solvents. At the beginning of the cleaning process, they check your barbecue to see if it's working properly. Then they take it to pieces and place the components into the tank.
While the solvents remove burned fat and food leftovers, the larger parts are scrubbed and cleaned by hand. At the end, your BBQ is assembled back together and polished with special eco-friendly solution. Now, your barbecue looks like the day you bought it from the store and is ready for the next great outdoor party.
Trust Us With Your BBQ Cleaning Needs
Gentle dip tank cleaning method – no scratching on the metal surfaces
Our technicians bring along all necessary solvents and advanced equipment
Clean barbecue is more energy efficient and all cooked food tastes better
Take care of all food cooking appliances with one visit – add oven cleaning to your order
Book along your window and gutter cleaning appointments to ensure better looking exteriors
Save more money and time when you book two or more cleaning services at the same time
Get free estimates on

(770) 835-5383

now