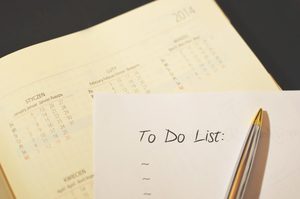 Some house cleaning chores need to be done on a regular basis, and the result will not only be a spick and span home, but you'll save time and effort by doing some of the cleaning chores in our checklist every day. Don't spend your weekend dusting, polishing, and vacuuming but use it more enjoyable by spending quality time with your family. The cleaning chores in our checklist aren't particularly arduous but you'll be able to enjoy a cleaner, tidier, and better-organised living space. Here are some simple suggestions to get the ball rolling.
House Cleaning Checklist
Wash up and pack away straight after your meal
Wipe kitchen and bathroom surfaces
Make the bed
Store dirty laundry in a basket rather than on the floor or the back of a chair
Don't leave any clutter
Clean and disinfect the toilet
You can quite easily incorporate these few little tasks into your normal routine because they won't impact too much on your daily schedule. The overall time that it takes to clean your home will be greatly reduced by completing these tasks on a daily basis. If you think you don't have the time to spare consider hiring professional house cleaning services to come and do the work for you. Cleaning Smyrna is available to suit your own particular needs. Whether you need daily help, weekly house cleaning services< or a one off clean you're bound to find a company that fits the bill and suits your pocket.
Checklist for the Kitchen
We thought we'd concentrate on the kitchen as it's the most used room in any home, as well as one of the hardest to keep clean. So here goes with some tips for keeping your kitchen clean:
When you've finished using your blender put in a small amount of warm, soapy water to prevent any of the food becoming hard and thereby difficult to remove
Place a wet paper towel into your microwave and switch it on for a few seconds. The steam released will aid in removal of the dirt and caked on food deposits. When the towel has cooled use it to wipe inside
Coffee pots quickly become tarnished with a nasty brown hue if not regularly cleaned. Quarter fill it with ice, lemon juice, and salt. After a quick swirl around the shine will be restored
A quick wipe around is all that's needed for those non-stick pots and pans. Harder to remove substances can be freed up using a pinch of salt.
We are pleased to share these simple tips with you to help you in your house cleaning endeavours. Don't let the household chores get you down and don't leave them for a rainy day. Keeping any home clean only requires a little bit of effort but you need to keep on top of the cleaning to save yourself time in the long run.
Tags: Cleaning Smyrna, cleaning tips, home cleaning, professional cleaning services