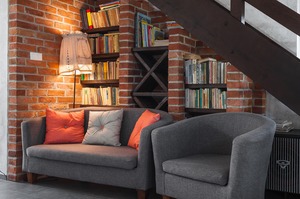 Do you want to keep your upholstered furniture looking great all year round? Use this guide to help you assess when you need to clean and how you need to do it! It's important to freshen up your fabrics to prevent any health issues such as allergies and asthma. Dust and pet hairs can make these problems worse.
How To Clean Upholstery The Right Way
Use the attachments from your vacuum cleaner to thoroughly clean down fabric folds and creases. Doing this on a weekly basis will actually make your soft furnishings last longer. If you can avoid eating and drinking in the living room this will also help. Once a month take off the cushions and go outside to give them a good shaking and beat them with your hand. This helps to prevent the dust from settling. To make sure you get even wear put them back with the reverse side facing.
Try and find the time to do a thorough clean of your soft furnishing once a year. Remove any covers that can be machine washed or have them dry cleaned. Check the instructions on the manufacturer's label. Use soapy water and a microfiber cloth to gently wipe your sofa letting it soak into the fabric and remove the dirt below. Don't saturate the material or it will take forever to dry! If you can't wait for the furniture to dry naturally, use a hairdryer to speed things up and open the windows.
Tackling a stain or spillage needs to be done quickly to avoid it setting. Take a paper towel to blot the worst of the stain as rubbing makes it worse. Try and work from the outside to the inside blotting as you go. If this doesn't work you may need to try a stain solution that's suitable for the fabric type. You need to be aware that a lot of grease and oil stains are only treatable with dry cleaning solvents. Testing a small patch of fabric is a good idea to make sure the colors won't run. Use a clean white cloth to check for color transfer.
If you're in any doubt you should call in professional upholstery cleaners in Smyrna for example as the stain may have penetrated the padding and be much worse under the surface. They'll have the cleaning solutions that will allow them to pre-treat the stain before removing them completely. They'll also be aware of your family's safety and will only use child and pet-friendly products. As well as removing stains an expert cleaning service will provide you with a thorough deep clean of all your upholstered furniture, so when you need a helping hand give them a call!
Tags: Cleaning Smyrna, cleaning tips, home cleaning, professional cleaning services, Upholstery Cleaning