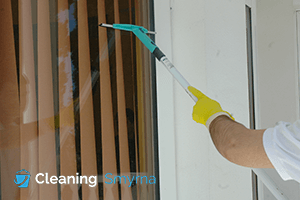 Have you already tried to lean out of the upstairs windows to reach the far-away corners? Was it easy for you to balance up a ladder and a bucket of water? Then make your life a whole lot easier and call Cleaning Smyrna on (770) 835-5383 now.
Our skillful window cleaners can reach and clean every window up to the fourth floor of your house with the help of advanced water-fed extension pole systems and distilled water. This quick and safe service prevents dust from building up after the cleaning, which means your windows will stay cleaner for longer.
Not everyone considers glass pane cleaning as windows maintenance, but clean sills and frames are safe from algae, moss and mold, which otherwise could discolor the plastic or eat into the wood. Perfectly cleaned windows operate better and definitely help bring more light into your home.
Our Process of Spotless Window Cleaning and Washing
When our window cleaners arrive at your property, they set up their equipment and work their way around your home, cleaning every glass pane with purified water and utilizing the water-fed extension pole technique.
The distilled water is effective enough as a solvent, so no other type of cleaning detergent is required. It does not leave any stains or streaks, and creates a thin protective layer over the glass surface to prevent dust from building up again.
The whole process is environmentally friendly, so there is no risk of run-off water, damaging any nearby plants. Indoor windows are cleaned by hand with a squeegee and distilled water.
Our Competent Window Cleaning Will Brighten Up Your Smyrna Home
Get help from skilled window cleaners, accomplish streak-free and sparkling glass panes
Benefit from advanced window cleaning techniques and the pure power of the distilled water
Washing all reachable glass panes, sills and frames up the fourth floor of your house
The overall service is more cost effective and quicker than any old cleaning method
Increased safety for your windows and our technicians as no one has to climb ladders anymore
Take care of your house exteriors in a single day, add barbecue cleaning and gutter cleaning to your order
More cost saving opportunities when you book two or more cleaning services at the same time
Call

(770) 835-5383

now and ask for our free and no-obligation estimates