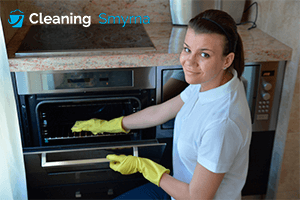 Oven cleaning constantly tops the list of the most tiresome domestic chores. If your opinion is the same – don't waste time doing it. Save yourself the hassle of smelly chemicals, sore hands and aching knees.
Get better results in less time when you hire Cleaning Smyrna to take care of your oven cleanliness. All used tools and solvents are non-toxic, kind to the environment and especially to your health. They leave no unpleasant odors and are gentle to all metal surfaces. The only thing they are rough to – dirt and grease.
Food prepared in a clean oven tastes better. The oven itself works more efficiently and uses less energy which is even better for your monthly budget.
Gentle and Efficient Dip Tank Oven Cleaning
The cleaning process starts by taking your oven to pieces. Trays, racks, panels and even control knobs are placed into a dip tank with special solution that lifts build-up fat and dirt with ease. And while the solvents in the tank do their work, the main body of your oven is scrubbed by hand and polished.
At the end all removed components are assembled back and your oven is ready to cook the next delicious meal. This service is also suitable for any other type of food cooking appliances – domestic or commercial.
Book Our Oven Cleaning Teams in Smyrna Today
You'll get a thorough cleanup of your entire oven
Grease will be removed from areas that were previously inaccessible
You will not spend hours manually scrubbing and polishing your oven
No abrasive tools and products are used in the process
Less risk of scratching any surface and damaging the oven
This is the perfect chance to replace old filters and failed lights
A great addition to your house cleaning and move out cleaning appointments
Get free quotes on

(770) 835-5383

now