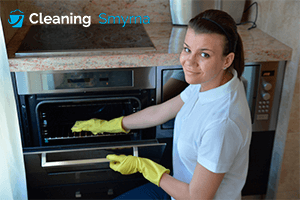 All of our cleaning services in Smyrna rely on know-how, hard work and time. You book a time and we send experienced cleaners to your home to work hard and get great results. In other cases, an additional factor comes into play. As a company providing professional cleaning services it makes sense for us to invest in equipment the average householder would only use once or twice a year. Nowhere is this much true than in our oven cleaning services, so today we thought we'd tell you a bit more about what goes into making this one of our most requested cleaning services Smyrna, GA.
Getting The Grease That Other Cleaning Methods Can't Reach
For oven cleaning we use a dip-tank in which we soak all of the component parts of your oven. Customers using this service for the first time are sometimes a little startled when the first thing we do is to take their cooker to pieces; we're always able to reassure then that we've never failed to put one back together when we're finished.
By stripping the oven back we expose all the places where dirt and grease lurk hidden from view but soaking the individual trays, racks, control buttons and other removable parts lift much of the dirt without any scrubbing. This makes for rapid, thorough cleaning and it's better for the metal too, no scouring means no scratches either.
No Smell And Environmentally Friendly Too
There's a myth that any detergent strong enough to lift off ingrained grease or baked on carbon will be smelly, dangerous to people, or environmentally unsound. This simply isn't the case. We use a range of professional grade cleaning detergents; they're powerful enough to lift any grease or grime from an oven but also non-toxic, low odor, safe for pets, safe for people and contain nothing that will damage the environment.
Other Advantages
There are a few more reasons why customers rate this as one of our most popular home cleaning services. Partly it's because oven cleaning by conventional methods is such a dreary chore, it's time-consuming, tough on your hands, and tough on your knees and back too. By contrast dip-tank cleaning is quick, a small domestic oven can be cleaned in less than an hour and the cooker is ready for use the moment we've finished. The speed of the service keeps prices down, making this a very affordable alternative to a morning's hard work. Finally, the service includes an inspection and assessment of the oven both before and after the cleaning process and since we have to take everything to pieces anyway it's an ideal opportunity to replace filters or blown light bulbs.
Tags: oven cleaning, professional cleaners, professional cleaning services